Developed with aesthetic doctors and dermatologists, the AGE-PURIFY collection from Filorga is designed specifically for combination and oily skin to act on skin concerns linked to imperfections and the first signs of ageing.
Read on to discover a 4-step anti-ageing skincare routine that's a complete solution for wrinkles and blemish-prone skin, promising results after just 7 days.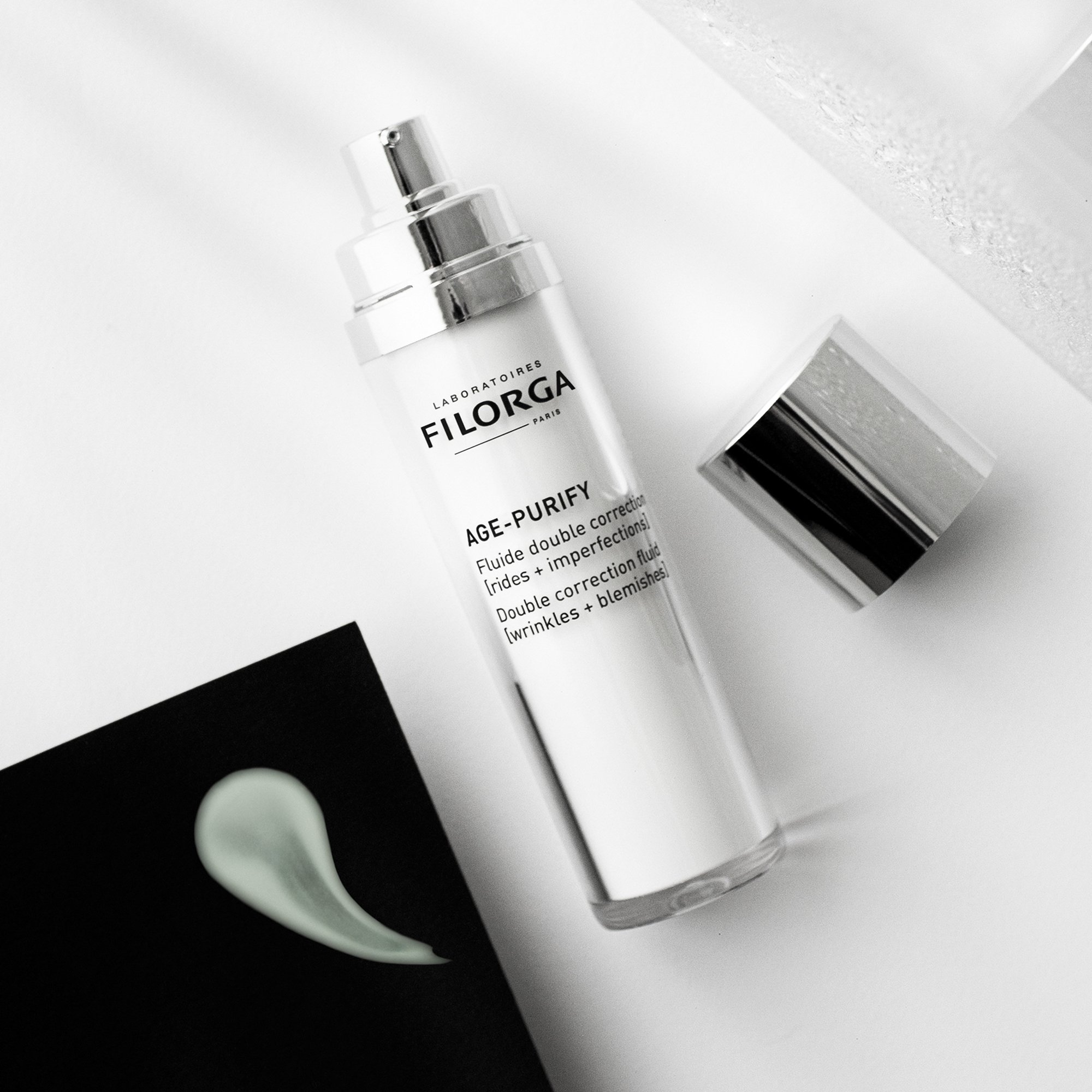 WHO SHOULD USE THE AGE-PURIFY SKINCARE COLLECTION?
AGE-PURIFY is an anti-wrinkle and blemish targeting skincare collection tailored for those noticing the first signs of ageing, and with a blemish-prone, oily skin type.
Acne and blemishes are not exclusive to teens. Over the last decade, reports of adult acne have increased by 60%1, with concerns about spots, redness, enlarged pores, and wrinkle becoming women's top concern from the age of 352. AGE-PURIFY3 helps to address these specific skin concerns for blemish-free, younger-looking skin.
WHEN TO START USING ANTI-AGEING PRODUCTS
When it comes to taking good care of your skin, the earlier you start the better. Even if your skin is wrinkle-free, it's recommended to use an anti-wrinkle treatment as a preventative measure. Implementing an effective anti-ageing skincare routine with active ingredients is the key to youthful-looking, clear skin.
WHAT CAUSES WRINKLES?
Wrinkles and fine lines are an inevitable part of ageing. However, they can be magnified by lifestyle and environmental factors, including pollution, sun exposure, diet, and sleep. With age, the skin's natural collagen levels also deplete, resulting in a loss of elasticity and ageing skin.
Wrinkles on the face can't be completely reversed, but with the right anti-ageing skincare routine and active ingredients, the appearance can be improved and youthfulness restored.
4-STEP ANTI-AGEING SKINCARE ROUTINE
An anti-ageing skincare routine tailored to your skin type and skin concern is essential to achieving healthy, younger-looking skin. For combination and oily skin, it's crucial to use skincare products that not only improve the look of wrinkles and imperfections, but help to remove excess oil, shine and impurities too.
STEP 1: USE A CLEANSER FOR OILY SKIN
Cleansing should be the first step in your morning and night-time skincare routine. It not only removes the dirt, makeup and excess oil that accumulates on the skin and causes signs of ageing, but it helps to decongest pores and prevent blemishes too.
The Filorga AGE-PURIFY Clean Smoothing Gel Cleanser is an anti-blemish face cleanser formulated with smoothing and active ingredients (including hyaluronic acid and niacinamide.) When massaged into wet skin, it turns into a fine, foaming gel that leaves skin feeling refreshed and cleansed.